This is a work in progress and not yet finished. The information it contains will be accurate but it might not be a whole lot, yet.
The battle pets are obtained from eggs. These eggs can be bought at home for 75t per egg.
These eggs will have to be put into an incubator. Currently incubators are only in the donation shop.
Once the egg is in the incubator you have to walk around and accumulate steps to hatch the egg.
There are 3 types of eggs: 2.5km, 5km and 10km.
The vending machine at home only gives 2.5km eggs. The other eggs can be obtained from the egg crates in the donation shop.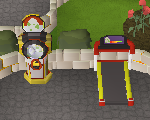 The left machine is the egg vending machine.
On the right is the treadmill. You can use the treadmill to hatch eggs. It costs 500b/m to use it. It will roughly cost you 1t per 100m.
The 2.5km egg is 25t to hatch on the treadmill, 5km 50t and 10km 100t.
There are also "Shiny" variants. These are more rare but also +-25% more powerful then the normal variant.
Each egg contains different kinds of battle pets you can get:
2.5km:
[COMMON]
Charmander
Oddish
Geodude
Squirtle
Caterpie
Pikachu
[UNCOMMON]
Ghastly
Weedle
Zubat
Totodile
Torchic
Tyrogue
[RARE]
Scyther
Psyduck
Mankey
Magnemite
Voltorb
Meowth
Venonat
Teddiursa
[VERY RARE]
Mr Mime
Snorlax
[LEGENDARY]
Shiny Charmander
Shiny Scyther
Shiny Oddish
Shiny Psyduck
Shiny Mankey
Shiny Magnemite
Shiny Mr Mime
Shiny Mr Mime II
Shiny Geodude
Shiny Squirtle
Shiny Voltorb
Shiny Ghastly
Shiny Ghastly
Shiny Caterpie
Shiny Weedle
Shiny Zubat
Shiny Totodile
Shiny Meowth
Shiny Meoth
Shiny Torchic
Shiny Pikachu
Shiny Pikachu
Shiny Venonat
Shiny Venonat
Shiny Snorlax
Shiny Tyrogue
Shiny Teddiursa
5km:
[COMMON]
Charmander
Oddish
Geodude
Squirtle
Caterpie
Pikachu
Charmeleon
Gloom
Metapod
Kakuna
Croconaw
[UNCOMMON]
Ghastly
Weedle
Zubat
Totodile
Torchic
Tyrogue
Scyther
Psyduck
Mankey
Magnemite
Voltorb
Venonat
Teddiursa
[RARE]
Golduck
Primeape
Magneton
Wartortle
Electrode
Haunter
Golbat
Venomoth
Hitmonchan
Ursaring
[VERY RARE]
Mr Mime
Snorlax
[LEGENDARY]
Shiny Charmander
Shiny Charmeleon
Shiny Scyther
Shiny Oddish
Shiny Gloom
Shiny Psyduck
Shiny Golduck
Shiny Mankey
Shiny Primeape
Shiny Magnemite
Shiny Magneton
Shiny Mr Mime
Shiny Mr Mime II
Shiny Geodude
Shiny Squirtle
Shiny Wartortle
Shiny Voltorb
Shiny Electrode
Shiny Ghastly
Shiny Ghastly
Shiny Haunter
Shiny Haunter
Shiny Haunter
Shiny Haunter
Shiny Caterpie
Shiny Metapod
Shiny Weedle
Shiny Kakuna
hiny Zubat
Shiny Golbat
Shiny Totodile
Shiny Croconaw
Shiny Meowth
Shiny Meoth
Shiny Torchic
Shiny Pikachu
Shiny Pikachu
Shiny Venonat
Shiny Venonat
Shiny Venomoth
Shiny Venomoth
Shiny Snorlax
Shiny Tyrogue
Shiny Teddiursa
Shiny Ursaring
SHiny Hitmonchan
10km:
[COMMON]
Charmeleon
Gloom
Psyduck
Mankey
Magnemite
Wartortle
Voltorb
Haunter
Metapod
Kakuna
Zubat
Croconaw
Venonat
Tyrogue
Teddiursa
[UNCOMMON]
Golduck
Primeape
Magneton
Electrode
Goldbat
Meowth
Venomoth
Snorlax
Ursaring
Hitmonchan
[RARE]
Scyther
Charizard
Vileplume
Mr_Mime
Gengar
Butterfree
Beedrill
Feraligatr
Blastoise
[VERY-RARE]
Shiny_Charmeleon
Shiny_Gloom
Shiny_Psyduck
Shiny_Mankey
Shiny_Magnemite
Shiny_Wartortle
Shiny_Voltorb
Shiny_1_Haunter
Shiny_2_Haunter
Shiny_3_Haunter
Shiny_4_Haunter
Shiny_Metapod
Shiny_Kakuna
Shiny_Zubat
Shiny_Croconaw
Shiny1_Venonat
Shiny2_Venonat
Shiny_Tyrogue
Shiny1_Teddiursa
[LEGENDARY]
Shiny_Scyther
Shiny_Vileplume
Shiny_Golduck
Shiny_Primeape
Shiny_Magneton
Shiny_Mr_Mime
Shiniest_Mr_Mime
Shiny_Electrode
Shiny_Goldbat
Shiny_1_Meowth
Shiny_2_Meowth
Shiny1_Venomoth
Shiny2_Venomoth
Shiny1_Hitmonchan
Shiny1_Ursaring
[EXTREMELY LEGENDARY]
Shiny_Charizard
Shiny_1_Gengar
Shiny_2_Gengar
Shiny_3_Gengar
Shiny_4_Gengar
Shiny_Butterfree
Shiny_Beedrill
Shiny Feraligatr
Shiny Blastoise
Shiny1 Snorlax
Scizor
Regirock
Registeel
Regice
[UNIQUE]
Shiny Scizor
Shiny Regirock
Shiny Registeel
Shiny Regice
Mewtwo
[ONE OF A KIND]
Shiny Mewtwo